Weekly Sabbath Services. Shabbat Service begins at 1:30 pm and is face-to-face. We begin with The blowing of the shofars with the call to worship. You will enjoy live Praise & Worship, the reciting of the Commandments, Shema and Viahafta ("And You Shall Love…"). You are welcome to join us as we celebrate the joy of the Sabbath of YAHWEH. We are still hosting our services over zoom, if you would like to join us virtually, contact us at rabbi@melohagoyim.org.
Looking for a positive way to start your morning? Join MHG prayer warriors every morning Monday – Friday at 7:00 AM est for Morning Prayer. We are crying out to The Most High on behalf of the house of Israel. Conference line 1-480-297-0773 code: 4367813#
Not a morning person, join us for Evening Prayer every Monday and Wednesday evening beginning at 7:00 PM. Bring your prayer requests and we will touch and agree before The Most High YAHWEH on your behalf. Conference line 1-480-297-0773 code: 4367813#
MARK YOUR CALENDARS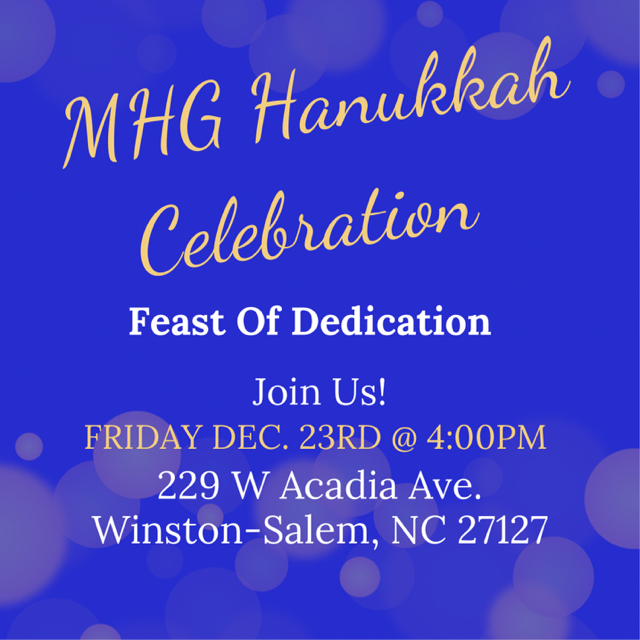 ---
Should Christians celebrate Christmas? Believers all over the world are asking this question. The Christain holidays are founded on pagans roots. Yahshuah said in John 8:32, "And you shall know the truth and the truth shall make you free." We need to hear the voice of our Master, The Creator of the universe as He speaks of His Appointed Times of celebration which are in Leviticus 23. Did Yahshuah (Jesus) celebrate the birth of mithra or believe in the bloodthirsty god oden? Did He take part in the rantings and revellings of the winter solstice? Click here to watch the true history of Christmas
Passover 2022
Join MHG in a 'Passover Seder'. Celebrating the deliverance of our ancestors from slavery in Egypt. Come journey with us in the 'Telling' of the great and wondrous deeds that our Creator performed on our behalf during this time of redemption and deliverance.
Visit here for more information
MHG Leadership Installation Celebration
May 22, 2022
You are invited to celebrate with us as we pass the 'Torch' of leadership at the Learning Center. Ecclesiastes 3:1 "For every matter there is an appointed time, even a time for every pursuit under the heavens:" If you would like to attend, please RSVP at the link below.
Visit here for more information

The Feast of Pentecost (Shavuot)
Join MHG in celebrating the Feast when the Torah was given on Mount Sinai and the Ruach HaKodesh (Holy Spirit) was placed in the hearts of man in the upper room in Acts chapter 2
Visit here for more information

The Feast of Tabernacles 2022
Join MHG for the Feast of Tabernacles. If you are interested in joining MHG for Sukkot. Please send an email to shamekabyers@gmail.com for registration forms.
Visit here for more information
---
All services and events are held at 229 W. Acadia Avenue, Winston-Salem, NC 27127 unless otherwise noted. COVID-19 restrictions have been lifted, but we continue to take precautions as a ministry to keep our assembly safe and respect the precautions of our mishpocah (family), so if you choose to wear a face covering you are more than welcome to do so. Our facility is disinfected weekly to guard against out-break of any virus.